Cap-and-trade bill moves
closer to passage in Olympia
In a 13-11 party-line vote on March 22, Washington Gov. Jay Inslee's keystone "cap-and-invest" bill for capping carbon emissions cleared the Senate Ways and Means Committee and headed to the floor for a possible vote. AGC opposes the measure.
The action was significant, because it indicates a level of Democratic support that some of Inslee's past climate initiatives have failed to garner.


Senate Bill 5126

—the Washington Climate Commitment Act—would establish a cap-and-invest program that, over time, lowers the level of emissions through the auction of a pool of allowances, the size of which is gradually reduced over time.
"There are elements of this bill that AGC appreciates but, on balance, we believe it will have a detrimental impact on the economy," testified AGC chief lobbyist Jerry VanderWood before the Committee. "Among other things, we are concerned that the bill gives the Department of Ecology regulatory powers beyond the carbon-reduction goals of a cap-and-trade program."

Read more...
Legislative leaders propose budgets with capital-gains tax revenues


The Democratic caucuses unveiled their state budget plans last week. They call for major increases in spending fueled by a new 7% capital gains income tax – opposed by AGC – and billions in federal Covid-19 relief funds. The

Senate budget

would spend $59.2 billion while the

House budget

came in a bit lower at $58 billion. Still, both spend far more than the most recent state budget, which came in at $52.4 billion just two years ago.
The Senate budget increases spending by 12.4% over the last budget. Including federal relief funds, the 2019–21 spending budget would

increase by 33%

over the budget approved for 2017–19. The House budget increase is 11.5% over the proposed 2019–21 revision.
The

$59-billion, two-year budget

Senate proposal imposes a new capital-gains tax and draws down the Rainy Day Fund. It further spends approximately $7 billion in one-time funds from the American Rescue Plan. The Washington Research Council (WRC) has more details

here

.

Read more…
AGC urges passage of comprehensive transportation funding

AGC of Washington is urging the State Legislature to pass a comprehensive transportation funding package this year.
"A bold infrastructure package will support job creation and recovery; putting folks to work, moving goods more effectively and efficiently, and ensuring mobility for our essential workers," AGC and nearly 100 other organizations told legislators in a recent letter sent by the Keep Washington Rolling coalition. A full copy of the letter with all the signers – who include business, labor, environmental and local government groups – can be seen here.
Different proposals have been floated in Olympia. Sen. Steve Hobbs, chair of the Senate Transportation Committee, has drafted a $17-billion, 16-year plan. Meanwhile, Rep. Jake Fey, chair of the House Transportation Committee, has drafted a $26-billion, 16-year plan. Neither proposal has been put into legislative language yet as negotiations continue.

Read more...
We're in the final stages of judging for the 2021 Build Washington Awards, and working our judges pretty hard, with an excellent turnout for entries this year.
Please plan to join us for the virtual awards event on May 20!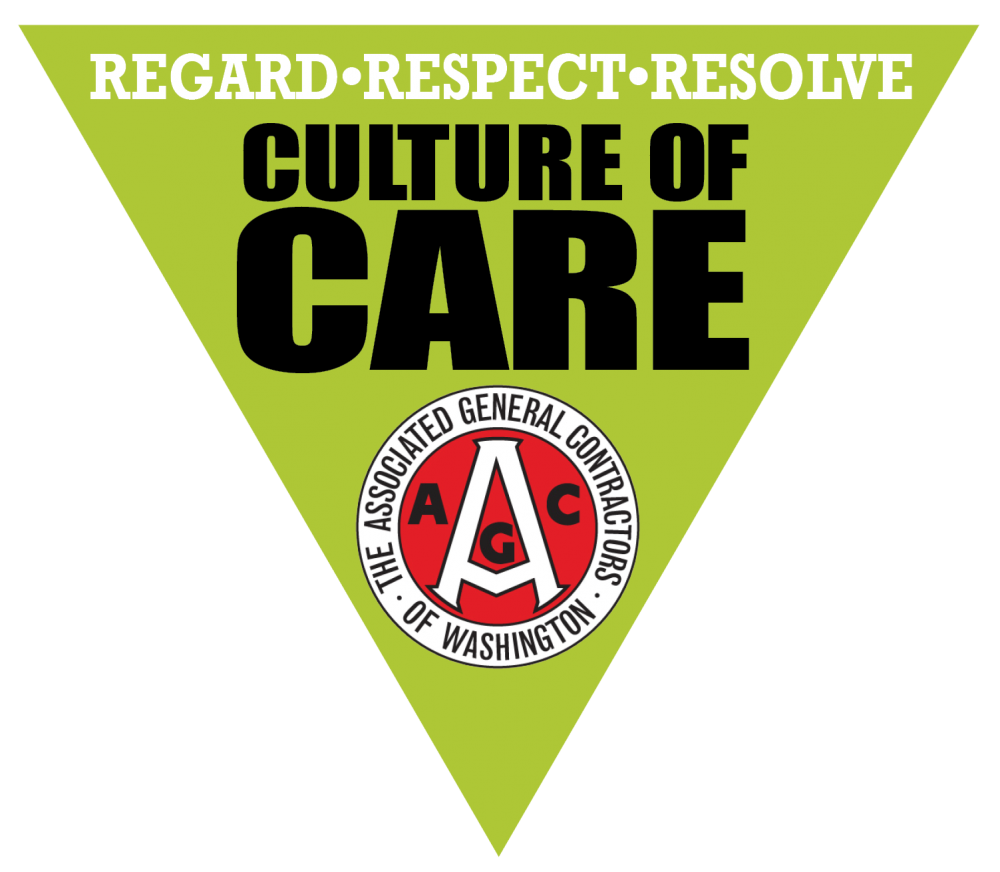 Culture of CARE Spring Forum, April 29
The 2021 Culture of CARE Spring Forum will delve into the topic of LGBTQ worker inclusion on construction jobsites. Hosting the forum is acclaimed jobsite culture advocate and superintendent at Hensel Phelps,

Kabri Lehrman-Schmidt.

Our featured program will be presented by

Morgan Mentzer

, co-founder and attorney at the

Lavender Rights Project

, a LGBTQI+ legal-services nonprofit, and co-founder of the

Reckoning Trade Project

, a nonprofit focusing on increasing representation and retention of LGBTQI+ trades workers.
Morgan will give our Forum audience an overview of the Reckoning Trade Project's training resources for LGTBQI+ inclusion, and give us a primer on best practices for employers to create inclusive practices for gender diversity in the workplace. She'll focus on gender diversity in the trades and explain the differences between

sex, gender identity

and

sexual orientation

; pronoun usage, and state/federal discrimination law.

Register today...
Employees, too, save big with AGC membership
One of the most overlooked benefits for AGC-member firms is the many great discounts -- for

Verizon, Staples, Sherwin-Williams, Office Depot

and more. But employees, too, can take advantage of exclusive savings, including Verizon, Skechers, 1-800-FLOWERS, TrueCar, Omaha Steaks and more.
Get the whole scoop

here

, and start saving today.

Masks keep
us open;
no masks
shut us down.

Visit StaySafeWA.com
to learn how
you can help.
AGC WORKS
is a publication of the
Associated General Contractors of Washington
Questions? Comments?
Please email
Sean Lewis
,
marketing director.
1200 Westlake Avenue N., Suite 301, Seattle Washington 98109
Copyright 2021, AGC of Washington. All rights reserved.

Get the latest
COVID-19
phase-2
re-start

resources
and information for the construction industry
at the AGCW

Contractor
Resources
page.
AGC's Construction
Leadership Council
develops the next generation of construction leaders through education, philanthropy and social efforts to ensure the future success
of our industry.
DISCOUNT
PRICING
FOR AGC
MEMBERS
Learn more
about
special offers
exclusively
for you!