Get the latest from L&I at Nov. 6 dinner meeting -- register today!
Timely release of retainage is an extremely critical issue for contractors -- as are workers-compensation fraud, prevailing wage and apprenticeship. Join us on Nov. 6 as Department of Labor and Industries (L&I) assistant director Liz Smith will be our speaker to cover these topics. Don't miss this event and the opportunity to ask L&I a question.
As always, we will be at the Tacoma Country and Golf Club with a 5:00 pm social hour and 6:00 pm dinner. Please register before noon on November 4. 

Pierce County Construction Career Day coming in November

It should not come as news that workforce development is critical to our industry.

This great annual event in Puyallup exposes over 2,500 local high-school students to construction with hands-on exhibits and information booths. Please take a moment to take a look at

this website

to learn more. You can also sign-up to be an event vendor or sponsor.

Help bring the construction industry alive for our youth!
ELECTION 2019:

B

e an informed voterFrom statewide ballot measures and legislative races to local county/city positions, AGC's BUILD PAC has endorsed a number of candidates and issues. Take a look at our Endorsements page

here

. Be an informed voter -- and be sure to VOTE by November 5!
PLA victory on JBLM projects
AGC of Washington fights government-mandated project-labor agreements (PLAs) wherever they pop up. This time, there was an attempt to pursue a government-mandated PLA at Joint Base Lewis McChord (JBLM) -- and AGC jumped in to oppose it and won. AGC was asked to comment on the construction of a combined 85,000 s.f. squadron-operations building and eight-story parachute drying tower, 12,000 s.f. covered storage area and 60,300 s.f. of demolition for five buildings/structures at JBLM using a PLA.
New pre-apprenticeship program in Pierce County
The construction industry continues to experience a shortage of talent, with no relief coming soon. This industry is projected to grow 3.6% annually, the largest growth rate when compared to healthcare, advanced manufacturing, and transportation/logistics/warehousing – and this growth rate does not include ongoing retirements that will exacerbate the shortage. One strategic solution to address the talent shortage is WorkForce Central and its philanthropic, public and private sector partners who are all investing in a county wide pre-apprenticeship program that will help prepare Pierce County residents for apprenticeship programs or direct employment within the construction industry.
Click here to learn more

.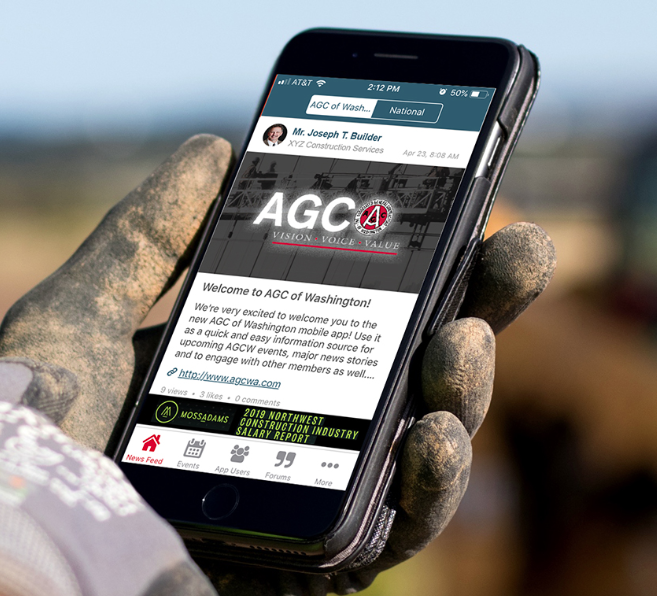 It's all on the AGC mobile app!

AGC CONNECTION

-- AGC of Washington's new mobile app -- is now available, providing you with instant access to AGCW events, news, member forums and more. You can also connect to AGC of America through the app. It's free for all registered AGC members -- download it today. Look for

AGC CONNECTION

in the Apple or Google Play app store, or

click here

-- and put the power of partnership in the palm of your hand. Get it today!
Excellent
AGC Education Foundation classes in the Southern District --
click here
to see upcoming class offerings
!